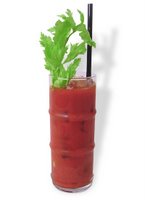 I bought a set of ten linen napkins from Nordstrom last weekend on the vow (to myself) that I would throw a dinner party soon. Sure, I already have more than a few sets of napkins…but these were so cute with an orange and white Moroccan pattern! Time to get to entertaining!
I've had the idea of throwing an "evening brunch" for a few weeks now. With it not getting dark until around nine, these summer evenings would be the perfect time for mimosas and a casual feast!
A few mini bagels with cream cheese and smoked salmon would be a perfect starter. Follow that with blueberry coconut pancakes, sausage, bacon, green salad and fruit salad. Yum! I am getting hungry already! Who wants to come over on Friday night?!