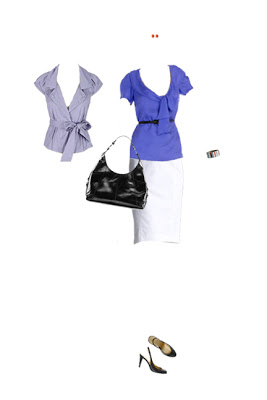 What to Wear: Summer Design Job Interviews
Oh, job interviews. Stress, excitement and fashion all rolled into one. I just so happen to have a lot of recent experience with this particular vein of dressing and a backed up queue of What to Wear requests. Let's catch up! Here is Miranda's request:
I have a bit of a tall order for you. I am finishing my design degree and will be going on interviews and visiting agencies. I have absolutely no idea what to wear. The outfit du jour at most design firms seems to be jeans and designer t-shirts, but that is too informal for a job interview, I think. However, I feel out-of-place wearing a power suit when the interviewer is sporting sneakers. Can you give me some ideas about what to wear to interviews in a more trendy, casual and design-oriented work atmosphere?

I am in my late twenties, so I definitely want to dress a little more sophisticated than the typical college student. I am 5'10" so I have to buy all my trousers in long or tall lengths, and I don't like to wear bulky or fussy things. I prefer heels to flats if they are comfortable enough to wear all day. I live in the upper Midwest where we have temperature swings of 120 degrees throughout the year so I am looking for some investment pieces that I can wear from season to season. Finally, it's possible that I could meet with the same people a number of times, so if I could have some mix/match options, that would be great.

I love every outfit you've put together on WTW, so I would really appreciate your expertise!
Unless you're interviewing with an investment bank or law firm (and maybe even then) a full matching suit isn't really the right choice for a job interview. Instead, look for classic cuts in fun mix and match pieces. Here's a version for summer: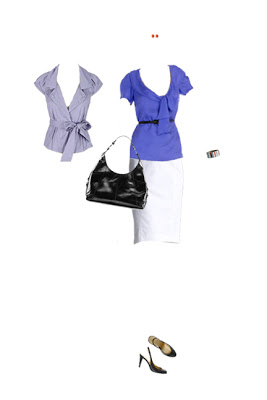 Blouse – This one is a splurge, but such a lovely splurge. It's a knock-out. You might be able to find something similar at Zara for less.
Skirt – A white or light gray pencil skirt is surprisingly flexible. I have one that I wear with button down tucked in shirts in summer. And with darker sweaters and tights in winter. This one is under $30.
Blazer – Blazers are great for interviews because they're structured but can be easily tossed if the interview is more casual. This one is on sale from Anthropologie for $40. I leaned heavily on a favorite velvet blazer from J.Crew in papaya during my interviews.
Pumps – Basic black pumps on sale from J.Crew.
Earrings – A dash of orange, because you're a designer understand get things like complimentary colors.
Bracelet – A graduation present?
Bag – A serious handbag on sale from Kenneth Cole.
For other interviews, rinse and repeat with a few of your favorite pieces. A pair of trousers with a top and belted sweater. Or a wrap dress with a cardigan. I tend to pick clothes that are bright/basic and focus on memorable accessories that tie it all together. The most important thing is to feel comfortable and confident. Good luck with your hunt!