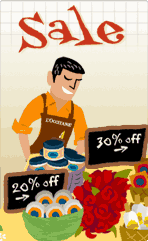 L'Occitane is my all time favorite soap/lotion/candle store! But their normal prices could make a sailor blush. Take advantage of one of their rare sales to stock up on your favorite French goods. On their site, you can even sort by percentage discount! The deals are incredible:
Guest soaps (sold out) – Box of 12 shea butter soaps in a wooden box. Used to be $25, now $6. Keep a box wrapped in your hall closet for unexpected hostess gifts. Or use them yourself!
Shea butter lip balm with SPF – L'Occitane's shea butter is the only things that kept my lips attached to my face during San Francisco's unusually cold and rainy winter. Half off!

Irridescent rose powder – Does anything more feminine exist on the planet? Half off!
Check out the website or their stores (there are six in San Francisco, including one on Castro) for more great deals on lotions, soaps, candles, creams and home fragrance.