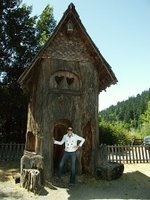 Part II: Rob and Emily Explore the Lost Coast
Now that Rich and Molly were successfully married, Rob and I drove West for the second part of our vacation (you can see all the photos here). We took highway 36 to the foggy and cool coast on Sunday afternoon. No more heat stroke for this San Francisco girl!
Our first stop was Woodley Island Marina in Eureka. I lived there on a sailboat for a few months in fourth grade while our family shopped for homes in Eureka. We ended up moving southern California instead, but I have fond memories of the adventure. Nothing has changed about the harbor or the restaurant where my sister and I used to drink shirley temples in our nightgowns. Rob and I had a huge seafood dinner in the restaurant before heading south to a campground in Redcrest.
We had a much needed sleep-in on Monday morning on the Avenue of the Redwoods. After exploring Redcrest, which takes about five minutes, we drove south through the forest to Myers Flat. This tiny town is very fancy in comparison with Redcrest! We had a great gourmet pizza for lunch, visited the general store and shopped in an adorable antique store.
Making our way back to Redcrest, we stopped at one of the"world famous drive thru redwood trees" and paid $1.50 each for the priviledge of walking through. They also have a two story treehouse at that park, a drive on top redwood and all sorts of other campy attractions attended mainly by Japanese tourists.
Our next stop was the Women's Club Grove along the Eel river. What a magnificent redwood forest! We hiked in the lush, ferny grove, investigated the Julia Morgan fireplace and dipped our toes in the warm river waters. On our way home we also hiked around the Founder's Grove and practiced our wilderness survival skills. It is just too incredible for words out there.
On Tuesday, we packed up the RV early and started south on our five hour drive back to San Francisco. Along the way we ran across the Willits 4th of July parade (just as you would imagine) and stopped along the freeway to swim in the Eel river. It was so fun crossing over the Golden Gate Bridge on the way home and we even found another huge parking space in our neighborhood that night.
Although we were only gone for five days, this felt like a much longer vacation! Congratulations again to Rich and Molly! I posted some more photos in the wedding album last night.