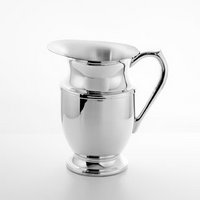 Shopping challenge: Fail safe wedding gift
When the registry has run down and you are not sure what to buy the happy couple, turn to Gump's!
I bought this pitcher as part of Rich and Molly's wedding gift. It's an exclusive Gump's design that's suitable to nearly any taste. And since it's pewter, it won't need polishing and can hold flowers without corrosion.