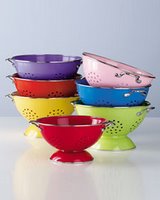 Things I love today: Crazy Horchow
Horchow is such a weird store. It's all so over the top! Very similar to the funny Neiman Marcus home collection (where else can you buy an antler table, to add a "subtle touch of rustic charm(!)," and a gold side chest in the same place!). Both sites are also home to an occasional really good find. Here are my picks from Horchow:
I recommend browsing around a bit. You'll find some truly ridiculous items and some real steals. Share your favorites in the comments!