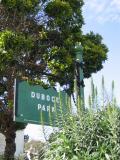 Urban girl almanac: Dramatic week
It's been a fun, sad, nice and weird week here in San Francisco. The heat wave finally ended. I went to a new spa. Trent had eye surgery. Jean left the city. I made some new friends. Whew! Here's what I learned during all this madness:
Bliss spa is fun but very expensive. If you go, be sure to make full use of their lounge, snacks and sauna.
Beard Papa's cream puffs are huge!
No matter how often I do yoga, I am always terribly sore for the next few days.
It's okay to be really sad and sulky when you sister moves to North Carolina.
Hooray for discounted blueberries!
Eye surgery is a disgusting miracle of modern science.
A granny cart is a city must-have. I managed to do three loads of laundry all by myself on Thursday with the help of the cart.
I can only manage to scrounge up about four decent outfits for hot weather before completely running out of ideas.
Walking to work takes about 30 minutes and is quite pleasant.
See's Candy should really deliver.
I love this show.
A subset of Murphy's law: The day you straighten your hair will always be foggy and damp.
People who live where homes are affordable should avoid talking about real estate with people who live in San Francisco. It is bad for our blood pressure.
Half a cup is four ounces (Thanks for asking Nicole…what were you making anyways?)
Pretending not to be shy can help you actually not be shy.
Duboce Triangle is the best neighborhood in the city!
Let's hope next week is a little bit less dramatic! Rob and I have our five year anniversary on Wednesday and we're going to Manchester Beach next weekend.