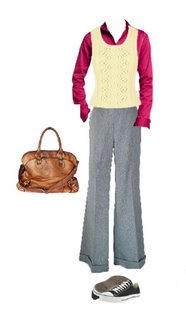 What to wear: Friday on the bus
A girl on my bus this morning was wearing an adorable outfit. I have tried to recreate it here for future reference. So cute!
Pink shirt -I like the bright color of this one from Banana Republic.
Sweater vest – Her sweater was much cuter. More sheer and lightweight. I cheated by changing the color of the only similar one I could find online.
Wool slacks – All my wool is stashed away right now for the summer. But this very tempting.
Sneakers – Really add something to this outfit. Very professorial.
Purse – I didn't see what she was carrying…so I am pretending it was this $700 bag from Anthropologie!
I can't wait for fall to start! Wool – Cashmere – Tweed – Corduroy! I love it all!