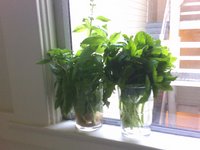 Urban girl tip: Instant herb garden
Fresh herbs are essential for summer cooking! Luckily, there is an easy way to your kitchen stocked with fresh herbs. No gardening required!
Buy fresh basil and mint from a farmer's market or produce stand, cut the stems and keep the bunches in a glass of water in a sunny spot. Basil does extremely well like this and will often sprout roots and keep for weeks. I'm sure this would also work with rosemary, cilantro and other herbs.
Thanks to my instant herb garden, I've been enjoying fresh mint in my water and basil in my sandwiches for the last few weeks!