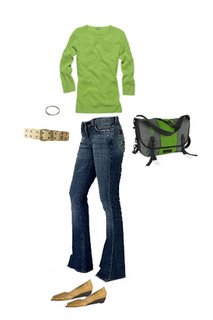 What to wear: Cheering for Floyd
Floyd Landis is an amazing bike rider who has dominated this year's Tour de France despite a terrible hip injury that will require him to have a replacement once the race is done. (I have a hip problem that is 550% less severe but is still a constant nuisance. I can't even imagine how much pain he must be in). After falling far behind, he had a miraculous day yesterday and has a good chance of winning the tour this weekend.
I'm not much of a bike fan and I am certainly not one to wear a green and yellow spandex outfit to support my favorite racer, instead here's my own "Cheering for Floyd" outfit:
Go Floyd! I won't be watching the Tour this weekend because we're camping in Tahoe with Nicole. But I will be keeping my fingers crossed for Floyd!