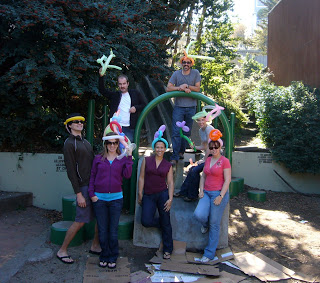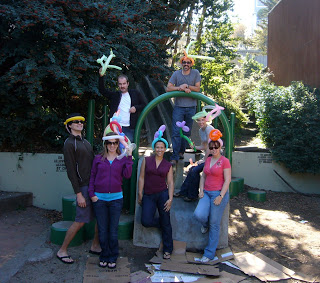 It is my birthday today! My first ever as a "Mrs." with a new last name. So, to celebrate my first birthday, we invited friends to a local park to celebrate in kiddo style on Sunday. A very casual and easy event:
Food: Pigs in a blanket we made that morning (yum!), snack packs of chips, crudites, peanut m&m's, candy corn, organic soda and a delicious mint chip ice cream cake.
Decorations: Orange tablecloths, Halloween napkins, rubber rats, skeleton parachuters.
Activities: DIY balloon animals were a brilliant call by Margaret. We had a great time inventing descriptions to match our creations. I think we could have second careers if the new depression ends our dot com jobs! Of course, the Seward Street Slides were the main attraction. These super steep cement slides are a few stories tall and full of peril. Armed with a slip of cardboard and/or wax paper, we generated quite a bit of road rash!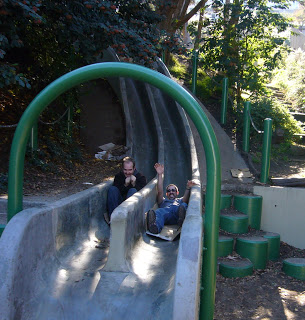 We made balloon animals and slid the afternoon away. What a fun way to ring in a new age and a new name!
PS: Angella found a great video of the whole slide process. You get a good sense of just how steep and fast they really are!