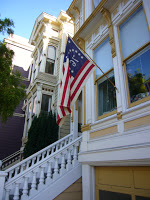 I hope you and yours have a fun day ahead. There's a heat wave in the city and temperature outside is a scorching 75 degrees. Perfect for watching fireworks tonight from an apartment rooftop in Russian Hill.
Me? I'm at work, having already used my holiday last weekend. That's okay. I'm wearing white jeans and flip flops and plan to take it a little easier than usual.
Is anyone else at work today?