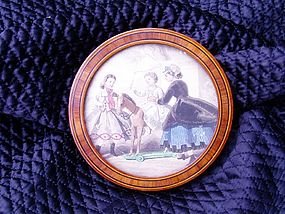 Things I love today: Round photo frames
I really need to put up more personal photos in our apartment. I have one of Rob in the living room in an antique silver frame and one of me as a baby in the bedroom. We have so many great photos of our friends and families, they need to be displayed somewhere!
I am thinking of hanging a bunch of framed pictures in the front hallway. I would love to get some of these cute round frames to break up the rectangles:
These frames are hard to find! I'll have to keep an eye out for them in local antique stores.