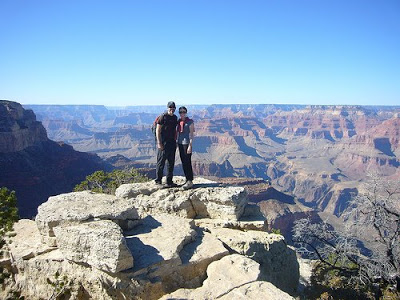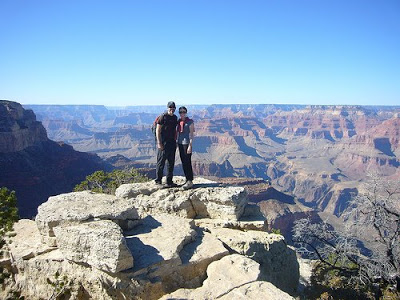 From our quick stop in Sedona, we drove North to the Grand Canyon. We set up camp at Mather straight away and started walking toward the canyon. It's an amazing experience to "happen" on the Grand Canyon vista while hiking through the woods. I'd never been to the Grand Canyon before and was properly wowed.
We hiked along the Canyon Rim trail for a few miles down to the El Tovar Lodge. I seem to have a knack for finding the fanciest hotel within any given 10 mile radius! We shared prickly pear margaritas in the lounge and bought a silver feather bracelet in the shop for my birthday. That night, we sat in the car listening to the last Presidential debate on the radio.
The next day, we woke up very early to hike six miles into the canyon to Skeleton Point. A fun and very steep hike. Luckily, by this time we were in great shape and ready for the high altitude trek. In fact, we finished two hours early and spent the afternoon driving east along the canyon and having another evening cocktail at El Tovar.
Click here to see all our photos from Arizona.
The next day, we packed up our tent for the last time and headed across the vast Mohave Desert toward Los Angeles. Tomorrow: our last days of vacation!