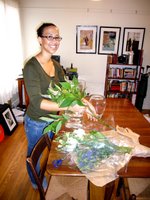 Weekend Round-Up: Friends!
After getting a lot of sleep on Friday night, I was starting to recover from my trip to New York and was feeling a bit less jet lagged. Which was good, because I had a lot planned for my weekend!
I met up with Trent on Saturday morning at 9:30 to help with his everything-must-go-we're-moving-to-North-Carolina stoop sale. Rob had left earlier that morning for a trip to see some friends in Tahoe. I had never participated in a garage sale before so I didn't know what to expect. We carried everything from his almost empty apartment down to the street and proceeded to wait….and wait. I guess garage sales in the city rely mostly on random foot traffic and impulse purchases! It was a freezing cold day in the city and it took a while to sell everything. By 1:30, we had made over $200 and passed on most of Jean and Trent's belongings including their mattress.
I went home and took a long, long shower to warm up and got dressed to meet Margaret in San Jose for a Shakira concert! I took Caltrain from the city with a girl named Nicole who was friends with the crowd Margaret drove up with from San Luis Obispo. They met us in the "waiting" room of the train station and we had dinner at Sonoma Chicken Coop. At 7:00, we went into the HP Pavillion for the show. Honestly, I have never in my life seen so many pregnant women at a concert! I was so excited to see Wyclef as the opening act, and I was pretty much his only fan in a sea of Colombians. Shakira was really fun and I had a great time even though I didn't know 95% of her songs. Margaret and I caught a ride back to the city, falling asleep along the way and went to bed at 1:00.
Margaret and I both woke up around 8:30 the next morning. We were meeting her friends later for breakfast, but they were slower to get ready. Being the excellent hostess that I am, I made Margaret run errands with me! We went to Safeway, Blockbuster and the library before picking out some flowers to try making French style arrangements. I think the inspiration was from Domino magazine? Using thistles and white blossoms, we created two bouquets tied with ribbon to put in the tall vases I inherited from Jean and Trent. Here's a photo of the final results and here is a close up of one of the bouquets.
Margaret and I met her friends at the Bagdad Cafe for a quick breakfast. I saw them off and immediately headed downtown to meet Nicole for some shopping. Brave Nicole took Bart to the city for the first time! We shopped to fatigue, had lunch in the Macy's basement and shopped some more. Poor Nicole took Bart home loaded with a King sized comforter and three big bags! Rob and I spent the rest of the night relaxing and reading.