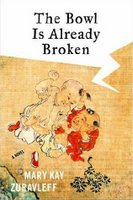 Book Report: The Bowl is Already Broken
I took this book to New York with me and am almost finished with it. The Bowl is Already Broken is centered around the staff of the Asian Art Museum and deals with pregnancy, terrorism, families, politics, religion and poetry. It investigates emotions without being corny and is smart without being preachy.
It's the kind of book where you wonder what is happening to the characters when you are not reading it. I think I will kind of miss Promise, Joseph, Leo and Arthur when I finish the book tonight.
What are you reading? I need to put in some new requests with the library!