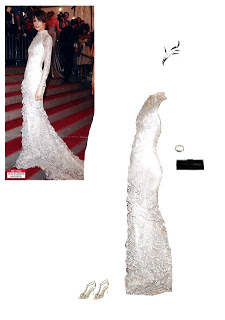 What to Wear: Black and White Ball
The Black & White Ball is only a few weeks away. I've got to start thinking about what I'm going to wear.
I found a dress a few weeks ago at a vintage store on Haight for $40. It's from a small dress house circa late 1970's. An ivory crochet sleeveless sheath with a small collar. It reminded me of a gorgeous Alexander McQueen gown I tore out of Vogue back in 2006. Very loosely associated with that gown to say the least…
Pulling this dress off is going to be a coup. I'm going to have to find the exact right accessories:
Shoes – This going to be the hardest part. I'll need something comfortable with a low heel that doesn't clash.
Hairpiece – I just so happen to have a stock of ostrich feathers and others at home right now to make my own hairpiece. I'll use this "fascinator" (awesome!) from the UK as inspiration.
Clutch – I have a couple at home that could work.
Bracelets – I need something bold…not sure if it should be black, peals, gold? I'll have to see it with the dress.
Make-up – Very shimmery, emphasis on the eyes not lips. Black eyeliner and false lashes, I like the half ones.
I wonder if I could bleach the dress to make it more white and less ivory…any tips?
PS: If you live in the Bay Area, you have to go to this party! It's expensive, but should be so fun. Here's a crazy video from one of the balls in the 1980's.