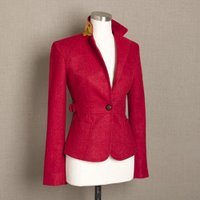 Coveted: Red J. Crew Blazer
Nicole lives in Napa and mentioned that we should come wine tasting in October. Her boyfriend works at a sparkling wine vineyard there and knows all the best places to go. Doesn't that sound so fun!
I would love to wear this blazer from J. Crew when we go! The Herringbone Ryder Jacket in Tomato is on my coveted list for fall. Imagine it with a sweater, pair a jeans and these boots. Toss in a glass of hot apple cider and I would be in heaven!