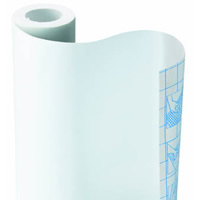 Crafty: Decorating with contact paper
There are so many things you can do with contact paper! One my favorites is using it to create custom "window decals" for holidays and parties. I think I originally got the idea from Martha's Halloween ghost patterns?
I think I'll use contact paper to make a big "LAC" in a serif font for the ladies activity club anniversary party. Maybe one for the living room window and one for the front door? You can also use contact paper to 'frame" or decorate your bathroom mirror for your guests.
Start by drawing your pattern on the back of the paper before cutting it out. Remember to keep the final placement in mind so it doesn't come out backwards. Then just peel and stick. When the party is over, it can be pulled right off without damage.