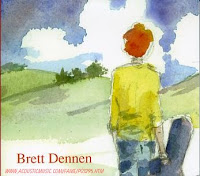 Things I Love Today: Brett Dennen
Summer music is the best. Lazy beats, catchy lyrics and lots of guitar. My latest summer music obsession is Brett Dennen.
I first fell for the live version of "She's Mine" from the Paste CD. Now I can't stop listening to "Darlin' Do Not Fear" since hearing it on the radio one morning.
Brett is playing at the Fillmore here in San Francisco on July 12. I think Rob and I are going to try to make it to the show.