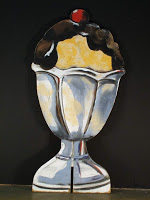 The jar of Somebody's Mother's Chocolate Sauce I won from What Would Jane Austen Do? arrived today!
I'm inspired to use it for a dinner party featuring a dessert of ice cream sundaes. Imagine following dinner with a small bowl of homemade vanilla ice cream, bananas, homemade whipped cream, chopped peanuts and this chocolate sauce all hot and gooey.
I can't wait! Now I just have to decide who to invite over for this special treat.