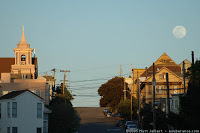 Urban Girl Almanac: Hooray for July
The weather has been pretty decent in the city and its been feeling like real summer these last few days. Very nice! Here's what I learned this week:
You can find the occasional blibliological treasure on the street.
Mistress of the Spices was so bad.
Ladies, hide your purses. There are so many great sales on right now. L'Occitane, Conran Shop, La Redoute, etc, etc, etc.
Opinions run high when it comes to wedding invitation design.
I love apricots, tostadas, cookie dough, cafe au lait and flax seed cereal.
This gorgeous photo of San Francisco is from local blogger, Le Blog Exuberance.
Always enter blog give-away contests.
I strayed from the ordering plan last night at Slow Club and had "fresh egg papparedelle with morel mushrooms, squash buds, mascarpone, sage & ricotta pecorina." It was as tasty as it sounds.
Naturalizer has some cute shoes for city walkers. I need to give them a closer look.
Cousins are good.
Go see my friends, Scissors for Lefty, play at Summerfest in Milwaukee on July 5th. Say "hi" for me!
I wore my "vacation pants" to work today. These super soft Club Monaco chinos are usually beach wear only. What a nice way to transition into a holiday weekend.
Rob and I are off soon for a three day weekend in San Luis Obispo. We're going to go to the beach, BBQ, throw the ball for with border collie Penney, eat loads of Mexican food, devour apricots, sleep, visit friends and family, watch Ugandans sing, eat watermelon and then sleep some more. My personal goal? To eat as much potato salad as I possible can, one snuck-from-the-refrigerator-spoonful at a time.
Have a great weekend!