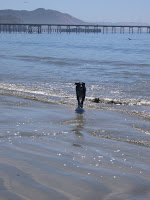 Weekend Round-Up: Sweet Home Obispo
Thank heaven for three day weekends! Rob and I are back from a very relaxing long weekend in San Luis Obispo. We drove down on Friday night and made it to my parent's house at 9:30. Two young Spanish girls arrived a half hour later, members of a Basque choir in town for a competition. My mom had signed up to host them for the weekend, which meant both bedrooms were full and Rob and I would have the air mattress in the office.
Slept in a long time on Saturday morning; I was really tired from a stressful week. At 11:00, we picked up Rob's best friend who was in town from Weaverville and went rock climbing on Bishop's Peak. It was fun to climb outdoors! Exhausted after a few hours, we had delicious sandwiches for lunch at Gus's Grocery. We also made the trip to Boo-Boo's Records to pick up a few new CD's. That night, we had a barbecue at home with my parents and watched Miss Potter.
Sunday morning, we read the New York Times and then went to church. The visiting Ugandan choir performed and had everyone in the church dancing and singing along. They were fantastic! We went sailing in Morro Bay after lunch from Chili Peppers. The weather was perfect and we saw six otters while cruising around. On our way home, we stopped at a fish market to pick up dinner supplies. Our dinner was a SLO classic: dungeness crab as an appetizer, huge artichokes and broiled halibut steaks. After dinner, we went to see Ratatouille (very good!).
Monday morning started with a lot of lounging in our pajamas. At 10:30, Mom, Rob and I drove down to Port San Luis to take Penney (the border collie) to the beach. It was a really warm day and the bay was full of dive-bombing pelicans. Penney was in heaven! We stopped at the Avila fruit stand on the way back home for some produce and a really, really good apricot pie.
Rob and I drove back home at 2:30, listening to my new Paul Simon and Brett Dennen CD's. The weather in San Francisco was gorgeous and we're on for a heat wave these next few days. The best news of all: our nice neighbor downstairs is on the road to recovery from his recent fight with cancer!
PS: My potato salad mission was accomplished this weekend. There's nothing better than two day old potato salad eaten straight from the fridge while reading a good book.