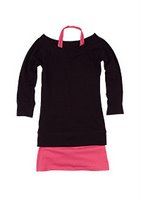 Things I love today: Ballet neck tee
I almost forgot: one good thing did come out of my trip to the doctor's today! The radiology assistant complimented me after my x-rays. She said, "You look like a ballerina" which is a pretty darn nice thing to say in my book.
I just happened to be wearing my new ballerina neck tee from Alloy. How appropriate! I ditched the tank from this $22 combo and instantly made the black top my favorite match with jeans. It's especially cute with a wide scarf as a headband.