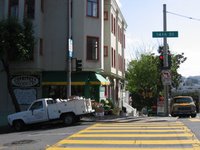 Urban girl almanac: Fall is here!
I am so glad it is Friday! This week has been draining. Here's what I learned:
Spending six hours at Macy's will give you a cold.
Sleeping for 18 hours straight will get rid of said cold.
Steve Emerson…not such a fun and optimistic guy when it comes to global politics.
Dinner delivery orders increase as the temperature decreases.
Don't order from Red Jade through Delivery.com. It doesn't work out as well as you'd hope.
Do order pizza from Deja vu, even more delicious than expected!
Gel coated Tylenol is the best pain medicine for toukas injuries.
Oh the Glory of it All is a very juicy read.
Ugly Betty is a fun new show. Studio 60 on the Sunset Strip was mostly confusing.
It pays in San Francisco to always dress a little warmer than you think is needed.
Listen to your physical therapist when she says you are only allowed to go to Bloomingdale's for one hour this weekend (we'll see!).
October starts Sunday! Yay!
Have a great weekend!