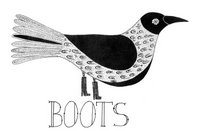 Unexpected art from Urban Outfitters
Regardless of your feelings about Urban Outfitters (did they unleash the hipster 80's scourge upon us?), you have to admit they have some pretty genius graphic designers.
This be-booted bird sketch just arrived in an email from Urban Outfitters promoting free shipping on boots. If you strip away all that copy, the result sketch is just about the cutest thing I've seen all week. It's a bird…wearing boots! Click to enlarge and enjoy!