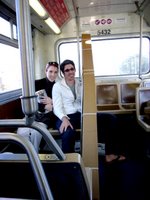 Weekend Round-Up: Food, flowers and fun
Rob and I started the weekend with a relaxing Friday night at home…frantically working on redecorating! We started by carrying our 77 inch roman shade home on the bus (thankfully it was fairly empty!) and installing it in our living room window.

Not one to accept this feat of home decoration and relax, I then moved on to framing six black and white photos and hanging them over the sink in the kitchen. The final results were pretty good! I'd like to expand this display with other black and white photos of our friends.

We spent Saturday morning reading New Yorkers, drinking coffees and picking up for Rob's parents. They arrived around 11:00 and we walked down to lunch at Askew. The weather was glorious this weekend and we managed to sit in the sun for lunch. Back home quickly and then down to embarcadero. I had a big plan that we would take the California Street cable car down and back, followed by a walking tour of Chinatown. But, for the second time, Rob's parents came for a visit and the cable cars broke down! Instead, we explored the Ferry Building. Get a look at this fig and tomato color combination:

After stocking up on a few heirloom tomatoes and buying several things we didn't know we needed at Sur La Table, we rode the F-train out to Fisherman's Wharf. I avoid Pier 39 like the plague but a trip to the Musee Mechanique never disappoints. We chose to spend our quarters on all the extremely boring arcade games! One consisted of only a breeze blowing on a deserted wagon. This one was buffalo nodding their heads:

We made our way home for a short rest and then a late dinner at our neighborhood Ethiopian restaurant. Rob's mother left early the next morning for a equine reproduction conference in Davis (she's a vet) and we had a crepe breakfast with his dad. The weather was even warmer on Sunday, so we headed out to the park. First stop was the botanical gardens:

And then on to the de Young for a snack and a trip to the top of the tower. It was so clear, you could see all the way to the Oakland hills! We walked home through the park, stopping to take pictures of the Conservatory of Flowers and the Delia Garden:

Rob drove his dad out to Davis in the afternoon and I planned the menu for the party on Friday. We have a big week ahead. Lots of grocery shopping, cooking, cleaning and decorating for the club's anniversary event!