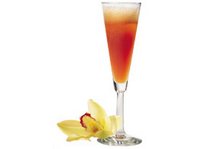 Cocktail Recipe: Pomegranate Mimosa
The dinner party went really well last night. All the treats from TrulyMed were delicious, the chicken tangine came out perfectly and the Israeli couscous didn't get burned! Our guests were great conversationalists and a lot of fun.
To start the whole evening off, I improvised a pomegranate mimosa. Here's the recipe:
Pomegranate Mimosas
1 bottle of inexpensive champagne
1 bottle of Odwalla PomaGrand Pomegranate Limeade
1 cup of pomegranate seeds
Add about 10 pomegranate seeds and half a jigger of pomegranate juice to each glass and top off with champagne. The seeds will float to the top of the drink. Makes approximately eight glasses.