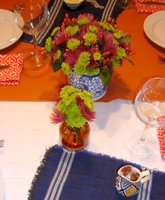 Things I Love Today: Ugly Flower Arrangements
I made the flower arrangements and set the table last night for tonight's dinner party. It was late and I think I went a teensy bit overboard trying to make the table look Moroccan. I used four different kinds of table linens and made one of the ugliest flower centerpieces. So ugly that it is almost pretty!
For the flowers, I used bright green pompoms and maroon chrysanthemums combined with orange coffee berries. Put that into one blue and white Chinese vase and one orange glass vase and voila! You get a mighty bright arrangement! Wasn't it said in Domino Magazine last month that there is no such thing as a bad flower combination?