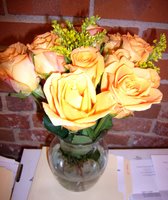 Thanks for all the great birthday wishes on the baby photo post! This is turning out to be a pretty fun day! I just received a bouquet of harvest moon roses at work from Jean and Trent. They smell wonderful!
Also, I got cards from my aunt, Rob's parents and my former nanny Yvette last night. I haven't opened my presents yet but I did see that dad got me a subscription to Latitude 38! How exciting! And Rob's sister sent me a really adorable orange jack-o-lantern kickball.
Fondue is going to be super fun tonight. My friend Margaret is coming up tomorrow and mom is visiting on Sunday. Yay for birthdays!