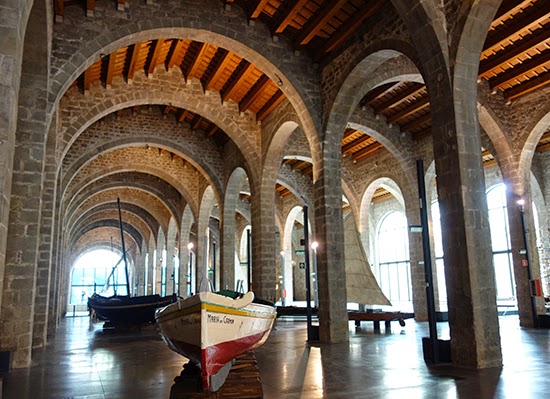 A Rainy Barcelona Day at the Museu Marítim
What do you do in Barcelona on a rainy day? The city know for its parks, beaches and open air cafes seems to have a completely different tone in the middle of a spring storm. After breakfast of cafe con leche and tiny chocolate croissants, Shane made the smart choice that we should escape the rain at the Museu Marítim (Maritime Museum).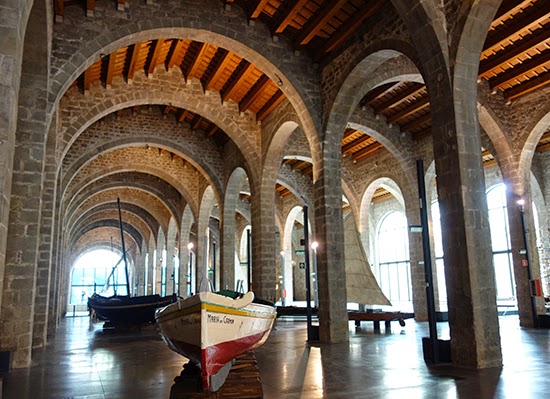 The museum is housed in echoing halls of a 16th shipyard – and just barely open again after a major renovation. Everything is brand new and slick, in the ancient setting. There is a selection of different boats from around the world, boat-inspired art, dioramas of the city, an exhibit on surfing and lots of ship models. For scale, here I am looking at the full-size reconstruction of a 200-foot galley ship that defeated the Ottoman Empire in 1571:
The museum also has an elegant cafe for lunch – full of lots of locals. For just 10 euros, they offer a gourmet three course lunch with wine. All local ingredients and sustainably grown according to the menu.
Shane had carrot soup and a filet of salmon with shrimp in a cream sauce. I had a warm brie and plantain salad followed by ossobuco cooked with wine and apricots. All that followed by a coffee mousse.
By the time we finished all that food and our wine – it was time for an authentic siesta. We took the subway for the first time to return to the apartment and rest our weary feet.
In the afternoon, Shane and I set out for Park Guell via subway. We shopped for indie t-shirts at Typographia before walking up to the park in the rain. Much less crowded so late in the day and with the bad weather – it was quite nice to explore. After the park, we walked most of the way back before the rain had us stop for a beer and then take the subway to the apartment. A visit to the local fancy market for supplies to feast on cheese, wine, cured meats, anchovies olives and pasta for dinner.