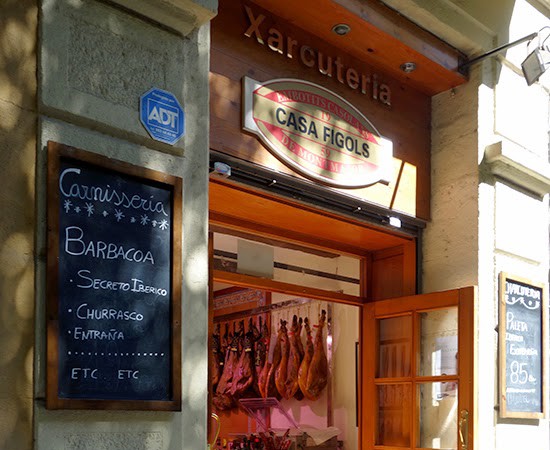 A Day of Walking Around Barcelona
At this point, I've got to be setting some kind of land-speed record for mileage covered by a tourist by bike and on foot. Shane arrived Sunday night and Rob went to his conference Monday morning, so two of us spent the day doing an introductory walking loop around Barcelona. Shane and I must have walked six miles and were very lost at least seven times.
First, we got very lost trying to cross our Sant Antoni neighborhood. I think six way intersections are my kryptonite. It gave us a chance to get a better sense of how people live, work and shop in the residential area at least.
We resigned to our fate and stopped for a coffee and pastry just a few blocks from where we started. Bite-sized chocolate croissants are a thing we very much need in the US.
Finally, we made it to Gran Via and walked down to meet Passeig de Gràcia and the famous architecture on the main shopping street.
From there, we continued on Gran Via to cut over to the Arc De Triomf and the big green park north of the city. I love old botanical conservatories and found two in the park. One, a glassed in tropical plant greenhouse.
And the second, a palm court covered in open wood slats for shade. Incredibly pretty.
Shane and I walked past the zoo and the train station and ducked down into Barceloneta just in time for lunch. We found a cafe that was part of the neighborhood open market – always a good sign. Had a delicious meal at Caballa Canalla of tomato bread, croquets and a fish carpaccio salad along with the best sangria and homemade vermouth.
After the long lunch, Shane and I walked around Barceloneta and down to the beach where it was too windy for a swim. This neighborhood is so charming!
Barceloneta is still relatively untouched by the tourist shops that have spread like mold over most of the the Barri Gotic and Raval areas. An adorable marine rope store was right on the main plaza.
Now, it was getting close to my 4:00 work meeting with a local startup. I'm notorious for arriving super early to any meeting – and thank heavens I did this time because I went to the right address, then the wrong address a mile away through the thickest tourist streets and back again. Shane is such a good sport! Even with all that, I still managed to arrive 10 minutes early. Very appropriate that we had ended up at Placa de la Puntual, right?
I had a great meeting while Shane enjoyed a coffee in a nearby plaza. We booked it back to the apartment in time for me to make a client call and crush on work projects for an hour. I barely had a chance to change before we walked to Universidat de Barcelona (and got lost several times on the way) for a courtyard wine reception with Rob's work conference.
So lucky to have visited these lush green courtyards and fish ponds at the university!
We went for dinner with the conference team at the Mortiz Brewery – which seems like the largest restaurant in the city by a wide margin. A nice selection of tapas including potato salad, croquettes, grilled peppers and fried anchovies along with dishes of brats with sauerkraut and fresh brewed beer. We got lost one more time on the way home before I spent a couple hours working with clients before bed.