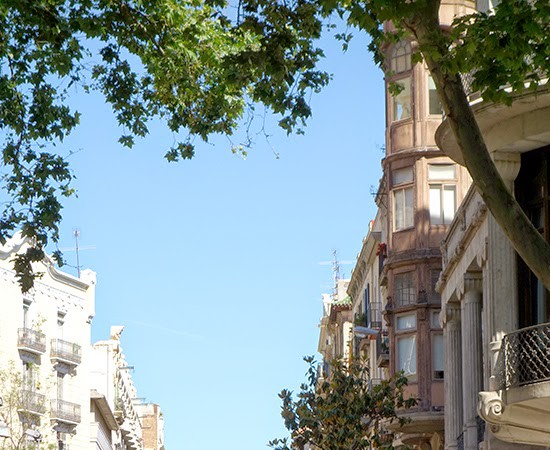 Biking Two Peaks Behind Barcelona: Tibidabo and Park Guell
Yesterday, we explored the far corners of Barcelona on the horizontal. Today, we went vertical!
Rob wanted to put in some miles on his bike before the rest of the week at a work conference and I had a fresh battery on the e-bike – so why not go for 18 miles and 2,200 feet of climbing? We started out with a fairly leisurely run across town and up Passeig de Gràcia, which is home to all kinds of fancy shops and architecture.
Pretty soon, we were up in the hills and rubbing shoulders with mountain bikers in spandex. My giant electric city cruiser looked so bonkers! We passed quite a few of your everyday European castle estates.
After 2 hours of riding, we reached Tibidabo: one part Catholic basilica, two parts world's oldest operating amusement park.
There were lovely mosaics in the church, including one of the monastery we'll be visiting next weekend.
The amusement park covers five terraces on the hillside and was packed with Barcelona families out for a day of Sunday adventure on some historically old rides.
Rob and I had a basic lunch at the cafeteria at the top before heading back down. Pro-tip: it appears that there's better food options inside the amusement park than by the church. In this direction, I definitely got a lot of double-takes while barreling down the dirt trails on my massive electric cruiser bike.
Almost out of battery by the time we reached the backside of Park Guell just 20 minutes later. Back there, the park is much less must-see destination for every tour group in the city, and much more a place for locals to walk their dogs. You could see Tibidabo so clearly from one of the terraces.
We walked up and over to the side with Gaudí's famous architecture. It seemed massively crowded – in all our trips Rob and I have never traveled internationally during "on-season" and it's a new experience! We hiked back out to our bikes and rode back down into the heart of town.
Last stop was inside the gothic quarter to return my bike to the rental shop and pick up a couple cones of ice cream. Rob rode home slowly while I walked along. This is such a great city for bicycling!
Shane arrives tonight from California and it is so exciting to show off the city that we now feel like we kind of understand!