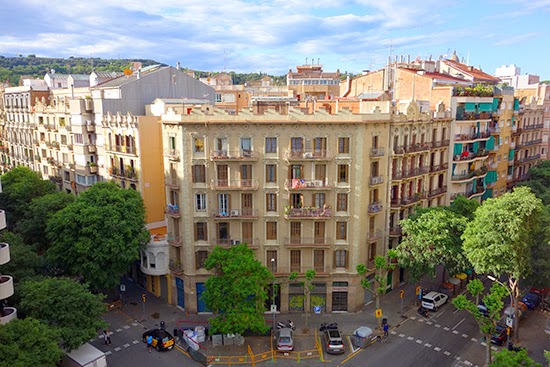 Welcome to Barcelona: Chase Off your Jetlag with a 26-Mile Bike Ride
It has been almost 15 years since I visited Barcelona as a college backpacker. However, thanks to our time in Athens last year and Nice the year before, it feels so familiar to be back in a mid-sized Mediterranean city again. The inexpensive coffee in ever-present cafes, the balcony apartments, the plane trees and the blue, blue sea.
After a late arrival and dinner in a cafe, we woke up to a great view from our apartment out into the Sant Antoni neighborhood. Little did we know that those wooded hills in the distance would soon become our foe.
After a relaxing morning, Rob and I walked down to rent an electric bike from e-Bike Rent deep in the winding streets of the touristy old city (Rob brought his own mountain bike from the US) . The outfit is run by a really nice guy who spent 20 minutes outlining a whole route for our day's adventure (see the whole thing on Strava here). A path full of gorgeous, dedicated bike lanes that worked perfectly until we got very lost trying to find the first milestone. Nothing more fun than being lost with jetlag!
Eventually, after running into what had to have been about 25 staircase dead-ends and so many cactus "jardins", we found our way to the top of the hill and a lovely view of the city. All these hills are where the "e" in my "e-bike" really made a difference!
A really pretty garden in front of an elegant place called the Miramar Hotel.
We made it to Montjuïc Castle at the summit after an hour of being fairly lost. Look at those hedges!
We stopped for lunch at a tiny cafe tucked away in a pine forest overlooking the sea on the backside of the castle. It was packed with the kinds of elegant, multi-generational family parties that Spain is known for.
Rob and I ordered "claras" (beer and lemon soda shandies) along with plates of "barbacoa" that turned out to be a delicious grilled sausage, chicken drumstick, rustic bread, salad and corn. We felt so proud of being able to order in Spanish!
From there, the route got much much easier. We popped out of the park at Pl. Espanya and took Carrer del Consell de Cent clear across the city to the Sagrada Familia. So many pretty parks, full of bocce ball courts and playgrounds on the way.
After Sagrada Familia (we'll go in to explore once our friends arrive), Rob and I pedaled down Av. Diagonal all the way to the beach. This area in the north east is known for a hip mix of new apartments and old industrial buildings.
From there, we biked along all the varied and very popular beaches.
That blue mediterranean water! We stopped a beach to dip our toes in the waves. Eager to come back to the beach with a swimsuit later this week!
We rode all along the beach the rest of the route back, going all the way out to the fancy W Hotel in Barceloneta and through lots of crowded cafes. Back at the apartment, we could barely fit the bike in the tiny elevator and hallway.
In the evening, we decided to stay in after our big day's adventure. A quick stop to the market yielded a very tasty bottle of white Catalan wine for $3, a block of local cheese, vinegar-cured anchovies, salad greens, a watermelon, lemon, pickled veggies, a fresh baguette and a cheesecake. Absolutely the best dinner I could have asked for after a big day of bicycling.