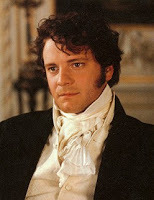 A Few of my Favorite Things
I'm a bit burnt out today. Too many late nights at work, a visiting boss from New York, not enough sleep and a small cold have left me feeling less than inspired. So instead of some fantastic outfit, party idea, etc. I'm going to post a list a few of my favorite things alphabetical order:
A freshly made bed
A Room with a View
Annie Hall
Antique combs
Black tea with milk and sugar
Camembert
Chanel perfume
Darcy
Le Petit Ecolier Cookies
L'Occitane shea butter hand cream
Goldfish
Guinness
Gump's
Park Chalet
Rob
The Daily Show
The Ladies Activity Club
The Legion of Honor
The Miramar
Tulips
Seed pearls
Sharp pencils
That's a good list; I feel better already! Did I forget some good things? Remind me in the comments section below.