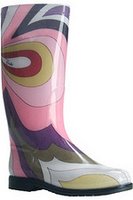 Things I Love Today: Rain
I though my love affair with rain was officially over after last winter's four month long, biblical-proportions, rain of terror. I never thought I would be happy to see it rain again…until it started drizzling last night. I love the rain!
After a few months without rain the city starts to smell badly, really badly. Last night's rain was just enough to wash away the smells and leave us with a shiny, fresh San Francisco. It even stopped raining at the perfect time: right before work this morning and with plenty of time to dry up before the opera tomorrow night. Hooray for rain!