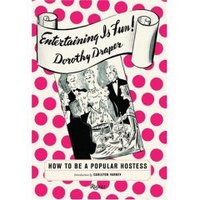 I don't know how it happened but all the sudden I have come down with a major case of party fever. I told Rob last night that I want to throw a party every single week this month. We'll see how close to that I actually get! I think I'll run out of guests to invite before that point.
In the meantime, I've brainstorming all kinds of crazy party ideas. Here are some examples:
Pasta and Project Runway Party – For the finale on the 11th. Fresh pasta from Lucca Ravioli, guests in PR inspired costumes (I'd have to be Laura), a toilet paper couture contest and trivia during the commercial breaks.
20 Questions Party – Invite five acquaintances to dinner with the instructions that they must bring four questions for the party with them. It would be a great way to stimulate interesting conversation over dinner.
Apple Harvest Party – Buy a bunch of apples from farmers market and prepare a festive fall menu. Apple tasting for appetizers, apple centerpieces, apple & camembert salad, pork stuffed with apples!
LOST Party – A Polynesian menu with mangos, fish and coconut for dinner. Dharma cocktails, spooky numbers (4, 8, 15, 16, 23, 42), polar bears, mysteries and lots of trivia. More ideas online here.
Which one sounds like the most fun to you? What are your ideas for party themes? Share your tips in the comments section!