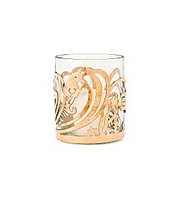 Holiday Decorating: Copper Votives
These copper and glass votives from Anthropologie would be a great addition to a Thanksgiving or Christmas table. This is the wave pattern and they also come in a forest design. At $36 for two, the price is a bit steep.
You could probably create something similar with a set of these six votive holders for $12.00 and one of these copper pens for $4.00. Plus, you could come up with your own pinecone, turkey, tree or similarly festive design.