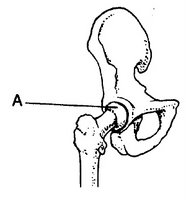 It's D-Day! Diagnosis day for the weird problem with my left hip! I have a doctor's appointment over at Mount Zion this evening to get the results from my MRA last week. How exciting!
I'm no doctor, but in my mind the best case would be something simple that could be cured with a couple cortisone shots. Worst case could be a whole bunch of things that I'd rather not think about.
To pass the time, let's have a contest to come up with funny theories about what went wrong. Could it be due to an alien implant? The result of a pilates party gone wrong? Does my hip fail to recognize my fabulousness? Post your best theory, explanation or story in the comments section below. The winner will be announced tomorrow and will be awarded with a bottle of empowermint hand soap from Philosophy.