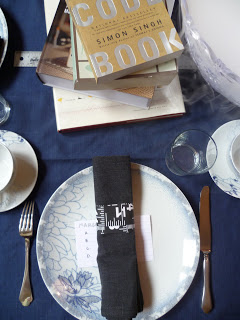 Party Recipe: Math & Science Baby Shower
This shower was inspired by one of my favorite hostesses! Kate, who threw a bridal shower luncheon for me featuring a sampler of cold salads. (too bad I didn't have my cute husband in a bow tie on hand to play butler as she did!) Yvonne is an engineer, so we went with a math & science theme for six guests.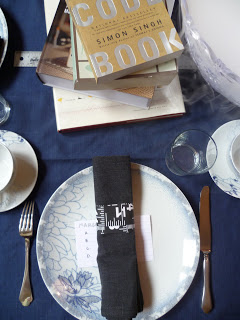 Decor: I set the table with a blue cloth, gray napkins, stacks of math books, rulers and a punch bowl of bubbling dry ice that Margaret procured. Wedding china and my the smaller luncheon set of my beautiful sterling flatware. Ruler wrapping paper for napkin rings.
Drinks: Champagne, water with lime and chamomile tea.
Lunch
: Warm Acme epi pan bread with butter. Four salads on a bed of lettuce. Swan House
curry chicken salad
(which Kate served at my shower). Tutti's
black olive pasta
salad. Apple, cucumber and walnut salad with orange blossom dressing. Beet and pomegranate salad with feta.
Activity: Toward the end of lunch, we had a quick round of math & science trivia about pregnancy. Plus, guests were invited to dress in their best "geek chic" outfits.