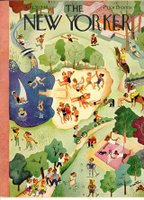 Things I Love Today: The New Yorker
Over the past year I've become obsessed with carrying a New Yorker with me everywhere I go. It is the perfect city accessory; absolutely crucial along with chapstick and a bus pass. Here's why:
It's light enough to carry in your purse all the time. The same is not true for the other magazines I get: Gourmet, San Francisco and InStyle (definitely not InStyle).
Perfect bus reading.
Much better than the six-month old TIME magazines offered in waiting rooms.
Emergency umbrella.
Makes you look, actually become, intelligent.
There are somehow always a few sections left in an issue you've "finished" that you can read in a pinch. It's like a never ending magazine. And in a real emergency, you can even read the poetry.
Great when rolled up for swatting away pigeons.
I highly recommend that anyone who lives in a city gets a subscription.