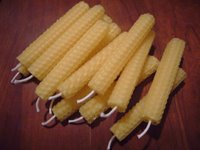 I have a whole bunch of notes and updates milling around that don't deserve their own separate posts. So they are going to all get squished in together here:
1. Candles – This craft project is coming along just swimmingly! I've made a few test runs with the wax sheets. The small 4 inch candles I made burn for a little over an hour and a half. That warm beeswax smell is making the whole house smell cozy.
2. Tableware – The set of WMF tableware Rob and I bought through Amazon.com on big discount has proven itself over the last few weeks. All 103 pieces are stylish and strong. I especially love the iced tea spoons! If you are in the market for a decent set of tableware that won't break your bank, definitely consider this set.
3. Hip – Oh, it is so embarrassing! I've been wearing a therapeutic Sacro belt for two weeks now…and the ridiculous thing is working. I feel significantly better than I have for the past few months and have even started exercising a bit. The only challenge is finding outfits that hide the belt sufficiently. Full skirts and long sweaters seem to be doing the best.
4. City – I am mad at San Francisco today. I'm not sure if it is the cold weather or the approaching holiday season but it seems like the entire city has a bad attitude. On the way to the bus Rob and I watched as a guy in a huge truck knocked over someone's motorcycle, stopped briefly and then just drove away. On the bus, a teenager with a terrible cold threw used tissues all over the floor while talking on her cell in speakerphone mode. I was nearly mowed down at lunch by a delivery van. It's time to shape up SF. December starts on Friday and I'd like to see a healthy dose of holiday cheer by then.
Anyway, that's the news from the city. Incredibly, I've already received two Christmas cards in the mail. That's always the official start of the holiday season for me.