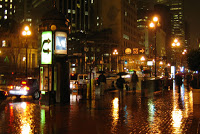 Urban Girl Almanac: A Rainy Week
Whew! It was starting to feel like last spring again in San Francisco the last few days. The rain and mist just would not stop. Luckily, we got a break today in time for Rob to make his sailing trip in the bay. Unluckily, it is supposed to start again tonight. Oh, well. I guess it makes it more "wintery" and festive. Here are some notes for the almanac:
Boden is having a big, big sale today. Buy lots of these skirts.
Dark hair is super fun. Although, I haven't quite mastered it just yet.
This year's Christmas card total was one for the record books: 93 so far and a few more still in the queue.
Viva Pinata is insanely addicting and cute. You should have seen how happy Rob and I were last night when we go the pretztails to mate (oh man, what is up with the dorkage?).
I'm really not that good of a baker, as hard as I try.
I am also really not at all good at straightening my own hair.
Wrapping plain vases with colorful paper is a good way to avoid having to buy, and clog up your cabinets, with new vases.
The holiday Ladies Activity Club party is a favorite tradition.
Does anyone get what this week's New Yorker cover is supposed to mean? I'm stumped.
The beeswax candles I made and gave out this week were a big hit.
I would be happy never seeing another office gift basket again in my life. I want to barf just thinking about all those mixed nuts, chocolates and cookies in the conference room.
Take the MUNI survey and help improve the system.