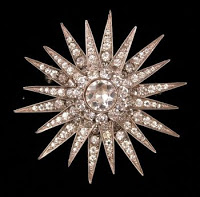 Design Inspiration: Diamond Stars
I guess it started with the Timeless Tiaras book about Chaumet jewelry design. Over the last year, I have been increasingly fixated on vintage pointy star designs. The brooch pictured here is a good example, as is this brooch and this tiara. Why don't these types of lovely designs show up more often in other places? I'm officially on a star hunt:
Star Mirrors – Pier 1 has two examples of star mirrors, but both are not quite pointy enough.
Annnnddd…we're finished. Seriously! I searched the internet high and low. I thought there would at least be a few examples of classic star designs on stationary or a few more mirrors. I came up 99% open handed and I am honestly surprised.
Imagine how pretty these stars would be around the hem of a skirt. Or on a throw pillow. Or one big star in the center of a duvet cover. Is this another example of "only-Emily" taste that sometimes surfaces?