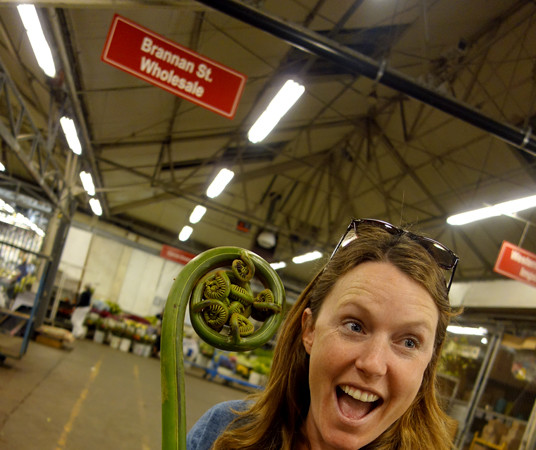 Well, this was a big one! We started the weekend with a funeral and ended it with a brand new baby boy.
On Friday morning, I took Jean and Trent to the flower market to buy supplies. Trent's uncle passed away a few months ago and a massive group of people were coming to town to celebrate his life. His aunt asked me to help with the flowers. Jean was really excited to find fiddlehead ferns for sale:
We loaded up the car with flower supplies. I barely fit alongside the baby seat:
The three of us made 12 tabletop arrangements and three very large altar arrangements from blossoming branches, green hydrangea, yellow and white garden roses, young almond branches, white stock and orchids:
Back to work at noon for a busy Friday in the office. Rob and I had pizza delivery for dinner that night.
I spent Saturday morning at the hair salon. It was a gorgeous warm day. Check out this happy city dog I saw on my way out:
Back home to clean house and take occasional breaks to read in the sun on the porch. Rob returned home from a big bike ride and we walked over to Jordan's house. Oops, we thought their housewarming party was on Saturday, but it was actual Sunday. It was fun to catch up for a while on the stoop anyway!
In the afternoon, Rob and I lazily watched Django Unchained and worked on our taxes (our accountant filed an extension). We went to bed early with no idea about the 3:30 am text we'd get from Trent and Jean at the hospital. Rob and I dressed quickly and drove down to Palo Alto:
We arrived at Stanford Hospital at 4:30 am and Jean called me into the delivery room at 5:00. I helped with her labor for two hours until baby boy Everett was born weighing in at 6 pounds, 15 ounces and 21 inches. Amazing! She did the whole thing with no meds:
Breakfast together in the maternity ward while the baby was off acing his first exams. We had a nice little chat when he arrived back in the room:
Rob and I drove back to Jean and Trent's apartment to take the dogs for a walk and catch an hour of sleep before my parents arrived from San Luis Obispo. Jean got upgraded to a private maternity suite and we had lunch in the cafeteria.
We left them at the hospital to rest in the afternoon and drove back to the city. Another nap at home (I don't do well with 3:30 wake ups) and a mani-pedi down the street. A busy, happy week ahead!