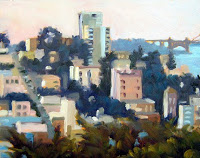 Urban Girl Almanac: Countdown
Only a few more hours before we hit the trails! Our rucksacks are packed and our meals planned out. I can't wait to get a little fresh air. Here's what I learned this week:
Stuffing and addressing our wedding invites was no big deal. It was nothing compared to our annual 100+ Christmas cards.
I was on cable TV again this week for work. It gets easier each time.
I love making mix tapes.
Is it just me, or does Cat Deeley appear to be the nicest person in the universe?
Mmmm, white nectarines.
This shirt from Alloy arrived and is adorable.
Rob has had such a good time shopping for our trip this weekend.
I don't feel that stressed about the wedding, but I apparently am. I have heartburn and a pimple you could see from space.
All those Europeans waving American flags choked me up a little last night.
I know nothing about backpacking.
This week's San Francisco art is from WineCountryPainter on Etsy.
Have a great weekend! I'll have a full report of our weekend outdoors adventure on Monday.