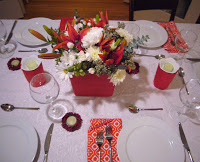 Party Recipe: Holiday Dinner
I brought a bag home from Trader Joe's last night full of all that is good and holy in the world: smoked salmon, Neiman Ranch bacon, brie, blue cheese, pork loin, champagne and blackberries. It's time for a dinner party! Three friends are joining us tonight to celebrate the holidays, here's the recipe:
Start with champagne paired with a smoked salmon roulade and water crackers.
Follow that with a dinner of a mesclun and pear salad, bacon wrapped & cranberry stuffed pork loin and new potatoes paired with some good red wine.
Set the table in red and white. I didn't have any red vases so I covered some glass versions with red tissue paper instead. I'll reuse the flowers (freshened up with a few new buds) for the open house on Sunday.
Turn on classic holiday tunes like "Baby it's Cold Outside" and "the Christmas Waltz."
Finish with coffee and New York Cheesecake topped with blackberries.
Between this and our office party on Saturday, I think I will gain at least five pounds this weekend!