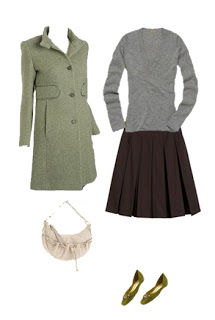 What to Wear: Is it Spring Yet?
It is mighty cold out there. And San Francisco still has many rainy days ahead. But I am starting to feel ready for Spring now that Christmas is over. Maybe because I saw that the ferns had sprouted on my walk to work this morning. The city ferns magically appear on rocks and bricks all over the city (especially on the Armory) with the first rainstorms. They're our version of crocuses!
Sweater – Heather gray is back on my palate now that I have dark hair.
Skirt – I just received my order from Boden from before Christmas.
Flats – In "moss" suede…how appropriate!
Coat – This cheery green coat is lined with really bright fabric for an extra kick.
Purse – Mine has started to look a little worse for wear. Of course, right when Zappos stops carrying this Michael Kors bag on super discount.
With a pair of tights, a scarf and a some gloves…you'd be set to brave the cold today!