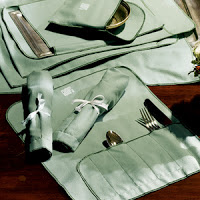 Things I Love Today: Silver Storage Bags
I was so, so lucky over the holidays! Mom wanted to thin down her collection of family silver. That meant that Jean and I made out like true bandits! I came home with eight new pieces including, my favorite, a coffee pot that pivots to pour on top of a warming stand. I love each one for all the Simmons, Bemis, Stockton and Williams history they come paired with.
I also thought I had inherited the process of wrapping each piece in paper and a plastic bag each time I used it to prevent tarnishing. This is something my grandmother and mother both labored over. Preparations for any major dinner resulted in a lot of rooting around and a huge nest of scraps. But I think I might have found a better solution!
Gump's has a pretty affordable set of flannel storage bags designed just for sterling and silverplate. I think I'll go in Saturday with my measurements to get stocked up. Add a small tag to the outside to indicate what is what and voila! Instant easy access to each piece. I may miss polishing everything constantly!