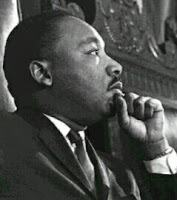 Martin Luther King Jr. Day
Hooray for Dr. King and hooray for having the day off! I hope you are all home from work today too. Rob and I have a relaxing day planned, including a trip to the Conservatory of Flowers to warm up a bit.
We've had a wild weekend so far; full of scheduling snafus, scrambled eggs, the temporary destruction of our apartment, a minor mental breakdown and a fabulous party. Expect a full update on Tuesday!